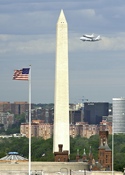 Accelebrate teaches on-site Python training classes at client sites throughout the Washington area and other the District of Columbia venues.
Python is a fast, flexible, and powerful programming language that is freely available and used in many application domains. Python is known for its clear syntax, succinct code, fast processing, and cross-platform compatibility.
Accelebrate offers private, corporate Python training specifically for AI, machine learning, data analytics, and data science. The Django and Flask web frameworks are also taught. All Python courses can be taught live online or at your site and may be customized for your team of 3 or more attendees.