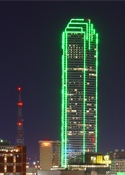 Accelebrate teaches on-site Python training classes at client sites throughout the Dallas area and other Texas venues.
Python is an open source, general programming language used for building websites, creating software, automating tasks, and performing data analysis. Python is known for its clear syntax, succinct code, fast processing, and cross-platform compatibility. Because it is versatile and easy to learn (even for non-programmers), Python has become one of the most popular programming languages today.
Accelebrate's in-person or online Python training courses teaches your team the basic and advanced features of the Python programming language or how to use Python for data science, including Artificial Intelligence (AI), Machine Learning (ML), Natural Language Processing (NLP) and data analytics. Classes on the Django and Flask web frameworks are also taught. All Python courses can customized for your group of 3 or more attendees.