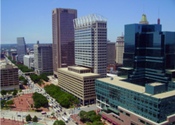 Accelebrate's on-site Amazon Web Services (AWS) training courses are taught at locations throughout the Baltimore area and other Maryland venues.
Amazon Web Services (AWS) is Amazon's popular cloud platform for organizations and individuals. Cloud services span developer tools, computing, networking, content delivery, contact/customer management, storage, database, deployment, management, application services, data analytics, and Google Cloud. AWS roles include AWS Cloud Practitioner, Architect, Developer, and Operations.
As an official AWS Training Partner (ATP), Accelebrate offers AWS learning taught by AWS-Authorized Instructors (AAIs) with deep technical knowledge to help your staff grow cloud skills and prepare them to pass the AWS certification exams (view AWS Certification Roadmap). Whether you are just starting in the cloud, looking to get certified, or want to learn about advanced AWS topics like serverless and Machine Learning, we have the course for your team.
Our in-person or online AWS courses are led by experienced cloud professionals who share their knowledge and expertise. We use hands-on exercises and projects to help your group learn the skills they need to succeed in the cloud. What companies said about employing AWS Certified staff (view full details):
91% said they increased innovation with AWS services
86% said they improved the security of cloud workloads
85% said they achieved faster deployment times

All classes are live, allowing the trainer to answer your questions immediately and work through solutions. Our courses build in time for hands-on experience with real-time feedback. Classes are delivered privately for your group of 3 or more at your site or online and can be customized to your team's specifications. This includes conducting an online AWS Learning Needs Analysis (LNA) to assess your organization's or team's AWS skills, identify gaps, and recommend learning paths to close those gaps.