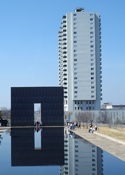 Accelebrate's on-site Amazon Web Services (AWS) training courses are taught at locations throughout the Oklahoma City area and other Oklahoma venues.
Amazon Web Services (AWS) is Amazon's popular constellation of cloud-based services for organizations and individuals. Services span developer tools, computing, networking, content delivery, contact/customer management, storage, database, deployment, management, application services, analytics, and more.
We can customize any AWS training course below to meet your group's goals and keep them on their learning path. All our AWS classes include hands-on labs, are instructor-led, and can be delivered at your site or online.