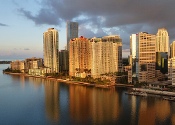 Accelebrate's on-site Amazon Web Services (AWS) training courses are taught at locations throughout the Miami area and other Florida venues.
Amazon Web Services (AWS) is Amazon's popular cloud platform for organizations and individuals. Services span developer tools, computing, networking, content delivery, contact/customer management, storage, database, deployment, management, application services, analytics, and more.
We can customize any AWS training course below to meet your group's cloud skills needs and keep them on their learning paths. All our Amazon Web Services training and certification classes provide hands-on experience, are instructor-led, and can be delivered at your site or online. Whether your team is just getting started with Amazon Web Services or are experienced cloud practitioners, we can deliver the perfect course for your group.
Grow your skillset and become certified in Amazon Web Services. Most classes listed below are authorized AWS courses that prepare you to pass the AWS certification exams.