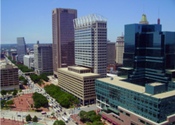 Accelebrate teaches on-site Tableau training courses at client sites throughout the Baltimore area and other Maryland locations.
Visualize solutions to business challenges and present data more effectively with Tableau, a leading business intelligence and data visualization tool. With Tableau software, you can create attractive and interactive reports, charts, graphs, and dashboards to show relationships among even the most complex data.
Accelebrate's Tableau training classes teach attendees both the basic and advanced features of Tableau. Learn the skills you need to work with Tableau Desktop to quickly and comprehensively analyze and present data. Then take a deeper dive into the software with advanced calculations, enhanced dashboard interactivity, and advanced analytics.