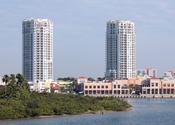 Accelebrate teaches on-site Tableau training courses at client sites throughout the Tampa area and other Florida locations.
Tableau is a data visualization tool used to identify trends and patterns from data and communicate the findings to others through charts and graphs. These visual insights can then be shared with others and used to make informed, data-driven business decisions.
Accelebrate's Tableau training courses teach attendees of all experience levels, beginners to advanced users, how to connect to various data sources, including Excel, SQL Server, and cloud-based data warehouses. Students learn how to use Tableau's drag-and-drop interface to create interactive dashboards and visualizations and then analyze and present the findings to stakeholders. Let us work with you to develop a customized Tableau course for your team. We can even incorporate your own data into the course, including in the labs. All courses are hands-on, instructor-led, and can be delivered online or at your site.
Looking for where to start? Our Tableau Learning Paths show which courses are right for your group.