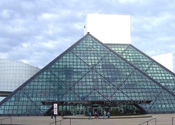 Accelebrate's on-site Agile training courses are taught at venues throughout the Cleveland area and other Ohio sites.
Agile software development is a set of related software development methodologies that focus on iterative and incremental development. Requirements are identified by cross-functional teams and evolve across iterations of the project, with an emphasis on responding flexibly to change.
Learn Agile and Scrum and integrate those methodologies into daily development. Scrumban and Kanban approaches to Agile are taught. Courses are available for every role in Agile development, including executives, developers, business analysts, product owners, and testers.
Accelebrate's private Agile training and certifications can be delivered at your site or live online for your team of 3 or more. All courses are engaging with real world hands-on labs, and taught by long standing Agile coaches and consultants who are also seasoned trainers. Let us work with you to customize a course for your group or collaborate with you to deliver an Agile Upskilling solution for your organization.
Check out our free Agile webinars, presented by some of our top Agile trainers.