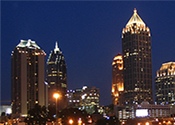 Technology is evolving at a rapid rate. While this gives businesses more opportunities to flourish, it also means that it is that much harder to keep up with the rate of development. This is why so many businesses in Atlanta can benefit from group Articulate Storyline training.
Articulate Storyline has achieved popularity thanks to its usability and functionality in the business arena. With this powerful software, it is possible to create seamless, professional presentations that impress even at the elite corporate level. Although Storyline is designed by Articulate to be very user-friendly for relatively inexperienced users, to truly take advantage of all that this software has to offer, some training is needed.
To best train employees for Storyline, group sessions are often preferable. Individual training is costly and inefficient, resulting in educational gaps that can go overlooked for years. In fact, our group training is even more impressive because it can be customized to any specific business goal and is taught on-site at your Atlanta facility. Our instructors will use advanced feedback from clients to tailor the curriculum, thereby maximizing the potential of any given group training session. On top of all this, all of our instructors are well versed in the curriculum, have actual industry experience, and come to you.
Articulate Storyline 360, part of the Articulate 360 suite, is a powerful yet easy-to-use e-learning design tool that allows you to create compelling, custom, interactive courses. Because Storyline 360 uses responsive web technology, the courses you design will look great and work seamlessly across all devices, from a desktop computer, to a smartphone, to a tablet.
There is very little difference between Storyline 360 and Storyline 3 at a functional level; the difference is in how payment is structured. Storyline 360 is subscription-based so you will have ongoing access to all the new features and tools, whereas Storyline 3 is a one-time purchase that doesn't include future upgrades.
We are pleased to offer a 3-day Storyline 360 / Storyline 3 class for creating highly interactive training applications for web browsers and mobile devices. In addition, we offer a 4-day Storyline course that covers everything in our 3-day course, plus an additional day to introduce your team to the other tools included in the Articulate 360 suite: Rise, Replay, Peek, and Studio.