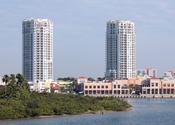 Tampa Articulate Storyline training by way of Accelebrate on-site classes can get your programming team up to speed with the popular eLearning authoring tool in no time flat. We will create a custom course plan that takes into consideration the experience and project goals of your team. Accelebrate offers a remarkable range of technology classes that we bring right to your location. Your IT team won't waste time traveling to a remote class, because they will do their Articulate learning at your place of business.
With Articulate's suite of software, your programming team will be able to author, narrate and annotate slide presentations and create interactive eLearning modules. Build learning programs that feature animations and gameplay that will keep your students engaged. If you want your team to learn how to incorporate Java Script into Storyline, we can teach them how to do that, too.
In-person classes are a great way to learn. Accelebrate teachers are motivated to impart their knowledge and experience to enthusiastic learners. In fact, the furthering of your team's tech education is what we're all about. To know more about Articulate Storyline training in Tampa, FL, give us a call at 877.849.1850
Articulate Storyline 360, part of the Articulate 360 suite, is a powerful yet easy-to-use e-learning design tool that allows you to create compelling, custom, interactive courses. Because Storyline 360 uses responsive web technology, the courses you design will look great and work seamlessly across all devices, from a desktop computer, to a smartphone, to a tablet.
There is very little difference between Storyline 360 and Storyline 3 at a functional level; the difference is in how payment is structured. Storyline 360 is subscription-based so you will have ongoing access to all the new features and tools, whereas Storyline 3 is a one-time purchase that doesn't include future upgrades.
We are pleased to offer a 3-day Storyline 360 / Storyline 3 class for creating highly interactive training applications for web browsers and mobile devices. In addition, we offer a 4-day Storyline course that covers everything in our 3-day course, plus an additional day to introduce your team to the other tools included in the Articulate 360 suite: Rise, Replay, Peek, and Studio.