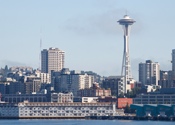 If you've seen an excellent eLearning presentation, chances are good that it was built with Articulate Storyline. The award-winning software suite of Studio, Storyline and Articulate Presentation have changed everything about the way people learn. With Storyline, it's easy to author learning programs that impart valuable information in a very interesting way.
Accelebrate can come to your workplace to teach three or more individuals all they need to know about Articulate Storyline and other programming technologies. When you hire us to do your corporate training, you don't waste time or money on a one-size-fits-all public class. We will custom-build a course plan that is just right for the skills of your IT team members. Our classes are casual, interesting and informative. Our course instructors have programming experience where it counts: in the real world. Theory is great, but Accelebrate teachers can impart the hands-on knowledge that only a dedicated programmer understands.
Before you leave this page, please read some of the unsolicited testimonials sent to us by programmers who have taken our Seattle Articulate Storyline training course. This will give you a good idea of the quality of learning you can expect from Accelebrate.
Articulate Storyline 360, part of the Articulate 360 suite, is a powerful yet easy-to-use e-learning design tool that allows you to create compelling, custom, interactive courses. Because Storyline 360 uses responsive web technology, the courses you design will look great and work seamlessly across all devices, from a desktop computer, to a smartphone, to a tablet.
There is very little difference between Storyline 360 and Storyline 3 at a functional level; the difference is in how payment is structured. Storyline 360 is subscription-based so you will have ongoing access to all the new features and tools, whereas Storyline 3 is a one-time purchase that doesn't include future upgrades.
We are pleased to offer a 3-day Storyline 360 / Storyline 3 class for creating highly interactive training applications for web browsers and mobile devices. In addition, we offer a 4-day Storyline course that covers everything in our 3-day course, plus an additional day to introduce your team to the other tools included in the Articulate 360 suite: Rise, Replay, Peek, and Studio.