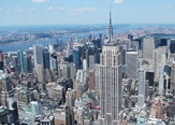 If your business wants to teach anything by way of eLearning, your development team is going to need to know all about Articulate Storyline. AS is quickly becoming the industry standard for creating eLearning educational presentations that grab the attention of students while imparting valuable knowledge in an interesting and compelling manner.
In that way, Articulate Storyline is like a bit like Accelebrate. Our course instructors have a special knack for teaching technology the way students learn best: in a small classroom setting taught by a responsive course instructor at a familiar place. When you hire Accelebrate to teach your IT team of three or more individuals, we come to your location with a customized learning plan that will get your team up to speed with on-site New York Articulated Storyline training.
Accelebrate is the #1 provider of at-your-location technology classes in the Empire State. Don't waste your money or your employee's time on one-size-fits-all public training courses. Accelebrate can devise a custom learning program that is just right for your group of three or more students. To know more about what we do, please dial 877.849.1850.
Articulate Storyline 360, part of the Articulate 360 suite, is a powerful yet easy-to-use e-learning design tool that allows you to create compelling, custom, interactive courses. Because Storyline 360 uses responsive web technology, the courses you design will look great and work seamlessly across all devices, from a desktop computer, to a smartphone, to a tablet.
There is very little difference between Storyline 360 and Storyline 3 at a functional level; the difference is in how payment is structured. Storyline 360 is subscription-based so you will have ongoing access to all the new features and tools, whereas Storyline 3 is a one-time purchase that doesn't include future upgrades.
We are pleased to offer a 3-day Storyline 360 / Storyline 3 class for creating highly interactive training applications for web browsers and mobile devices. In addition, we offer a 4-day Storyline course that covers everything in our 3-day course, plus an additional day to introduce your team to the other tools included in the Articulate 360 suite: Rise, Replay, Peek, and Studio.