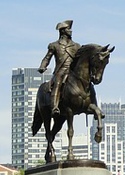 For the many various technology firms in the Boston area, Accelebrate's Spring Framework training provides one of the most attractive professional development options available. By combining the advantages of personalized, in-person instruction with the benefits of an on-site program, this training program stands to provide technology firms with enormous workforce gains.
The competition in the local Boston area is fierce, and firms need to do what they can to maintain a robust workforce that is current with the latest Java platform strategies. On-site Spring Framework training sessions allow companies to improve the knowledge and skill level of their employees without sending them to far-away workshops or development conferences. Instead, a company's employees receive intensive, in-person training in their own workplace environment. This allows Boston area firms to promote more than mere training through their professional development initiatives. Instead, companies promote a culture of innovation, inviting workforce members to generate workplace-specific solutions and development strategies during training.
Accelebrate's rigorous Spring Framework training sessions allow companies to engage in professional development in targeted ways. By tailoring the sessions to the specific needs of individual firms, Accelebrate gives companies the tools they need to realize all of the potential benefits of continual development.
Accelebrate's Spring Framework classes span Core Spring, Spring Boot, Spring Security, Spring Batch, and Spring Integration. We would be delighted to customize an onsite class for you, and clients are invited to combine topics across courses to create classes tailored to their developers' needs.
Attendees taking these courses should have substantial prior Java development experience.