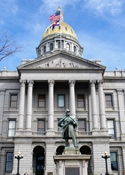 For developers working with the Java platform, Spring Framework training is a crucial investment for maintaining relevance and productivity in the industry. The landscape of the information technology field is constantly in flux, and professional development that keeps pace with the latest changes in the industry are integral for success.
Accelebrate's on-site, private training classes for the Denver area are fully customizable, which allows firms to develop the specific Spring Framework skills relevant to their business ventures and company needs. Rather than sending staff members to a distant conference, a training center or an outside workshop, Accelebrate allows companies the comfort of developing their staff on-site, which promotes affordability and productivity enhancement. Staff members learn new skills in the environment that they need to perform in, which assists them with developing customized strategies during the training. By training on-site, team members can start to apply their new skills immediately to the challenges facing them.
The benefits of in-person professional training are numerous, and Accelebrate's on-site model allows companies to leverage those advantages easily. By reducing costs, improving efficiency and tailoring the training directly to the needs of the company, technology firms in the Denver area stand to drastically improve their workforce performance.
The Spring Framework is a comprehensive, full-stack model for building Java EE applications. Spring supplies the infrastructure of enterprise applications so that developers can devote their time to their application's business logic.
Accelebrate's Spring Framework classes span Core Spring, Spring Boot, Spring Security, Spring Batch, and Spring Integration. We would be delighted to customize an onsite class for you, and clients are invited to combine topics across courses to create classes tailored to their developers' needs. In addition, some courses are available as live, online classes for individuals. See a schedule of online courses.
Attendees taking these courses should have substantial prior Java development experience.