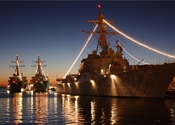 To remain competitive in the information technology marketplace, Tech companies based in and around the San Diego area need to ensure that their staff members have a current, relevant skill set and knowledgebase. To accomplish this, firms often undergo internal training and development, paying for team members to attend classes and workshops. For those firms that work with the Java platform or have an interest in Java-based applications, Spring Framework training is imperative for maintaining relevance in the market. However, workshops and the traditional classroom setting can often prove less than effective or complicated from a logistics standpoint.
To fulfill the training and development needs of San Diego area tech companies, Accelebrate offers exhaustive on-site training directly from industry experts with practical expertise. In-person instruction provides incredible benefits over other types of training, and its on-site setting allows team members to grow their skills in a familiar environment. This allows them the opportunity to absorb new information more comfortably, and it promotes the generation of workplace-specific solutions that take advantage of the new training. By choosing Accelebrate Spring Framework training sessions, San Diego tech firms stand to greatly expand their presence in a viciously competitive market with direct training targeted to their specific needs.
The Spring Framework is a comprehensive, full-stack model for building Java EE applications. Spring supplies the infrastructure of enterprise applications so that developers can devote their time to their application's business logic.
Accelebrate's Spring Framework classes span Core Spring, Spring Boot, Spring Security, Spring Batch, and Spring Integration. We would be delighted to customize an onsite class for you, and clients are invited to combine topics across courses to create classes tailored to their developers' needs. In addition, some courses are available as live, online classes for individuals. See a schedule of online courses.
Attendees taking these courses should have substantial prior Java development experience.