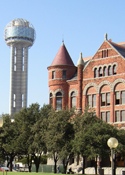 Tech companies working in the area around Dallas face a number of challenges. One of the most pressing issues that these companies need to address is keeping up with the most recent changes in the market. For those working with Java and Java-based development, Spring Framework represents a new avenue for development. However, to take advantage of what Spring Framework offers, companies need to ensure that their team members have an advanced knowledge of and facility with it.
Accelebrate provides one of the most effective methods for Dallas area tech companies to enrich their team members successfully. Reviews and experience demonstrate that in-person instruction is superior to impersonal training, but there are plenty of drawbacks to off-site workshops and classes. As such, Accelebrate facilitates on-site instruction for groups of three or more from leading Spring Framework experts. These on-site instructors ensure that their instruction is specific to the needs of the clients they serve. With targeted instruction direct from experts, any tech firm's workforce is poised to maximize the benefits of professional Spring Framework training. To remain competitive, Dallas-area tech companies continually require this type of training, and Accelebte provides the necessary instruction to realize the maximum in workforce development.
The Spring Framework is a comprehensive, full-stack model for building Java EE applications. Spring supplies the infrastructure of enterprise applications so that developers can devote their time to their application's business logic.
Accelebrate's Spring Framework classes span Core Spring, Spring Boot, Spring Security, Spring Batch, and Spring Integration. We would be delighted to customize an onsite class for you, and clients are invited to combine topics across courses to create classes tailored to their developers' needs. In addition, some courses are available as live, online classes for individuals. See a schedule of online courses.
Attendees taking these courses should have substantial prior Java development experience.