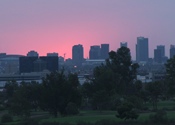 For superior group Spring Framework training in Phoenix, look no further than Accelebrate. Our Spring Framework courses can be customized to suit the needs and objectives of your team, which allows you to get the most out of your investment. In-person training is the ideal way to learn Spring because students receive immediate feedback and courses can be adjusted based on their progress.
Instruction by Experienced Professionals
Our talented instructors have extensive field experience working with Spring Framework, so they are uniquely qualified to pass along that knowledge to students. Accelebrate provides on-site Spring Framework training in Phoenix and the surrounding area, and we also offer online training for geographically dispersed teams. Whatever your situation may be, we can develop a solution that works perfectly for your organization.
Consultative Training and Responsive Customer Service
Accelebrate has earned a reputation for going the distance for our clients. Our consultative approach puts IT managers, corporate training managers and other professionals in the driver's seat. Meanwhile, our rapidly responsive customer service ensures quality at every level. Upon completion of their Spring Framework training, your students will be able to apply what they know to their jobs. Get started today by calling us now.
Accelebrate's Spring Framework classes span Core Spring, Spring Boot, Spring Security, Spring Batch, and Spring Integration. We would be delighted to customize an onsite class for you, and clients are invited to combine topics across courses to create classes tailored to their developers' needs.
Attendees taking these courses should have substantial prior Java development experience.