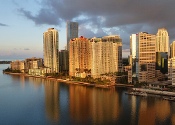 If you are planning to expand your Miami employees' Java knowledge to include Spring Framework and you have more than three workers to train, group training is the best option. Our company specializes in this, and we offer a comprehensive program to cover everything from introductory information to security and integration of Spring Framework. Whether your employees have already received some training and need to expand their skills or they need to start with introductory courses, we can help. One of the biggest advantages of our program is that we tailor it to meet your company's needs and the educational needs of your workers.
In addition to personalizing your education plan, we also travel to your location in Miami to train your employees. This eliminates the need for you to coordinate difficult travel and pay for travel expenses. By training as a group, they will learn to work together. With a long-term focus, we hope to set up a continuous education plan that ensures your workers are trained for not only the present but also the future. Technology is always changing and evolving, and your workers will need to stay at the top to keep your company at the top.
Accelebrate's Spring Framework classes span Core Spring, Spring Boot, Spring Security, Spring Batch, and Spring Integration. We would be delighted to customize an onsite class for you, and clients are invited to combine topics across courses to create classes tailored to their developers' needs.
Attendees taking these courses should have substantial prior Java development experience.