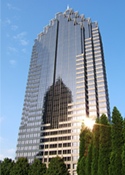 According to recent reports, the tech industry in Atlanta is booming. The fact that Atlanta is home to Georgia Tech adds much to this town's growing reputation as a hub of innovation. If your company's IT team wants to keep up with the rest of the Peach Tree State, you will want to know more about our on-site Atlanta C# training classes.
When you hire Accelebrate to provide continuing education to your tech team, you get a customized lesson plan that expands on your team's current programming knowledge. Making the move to C# is relatively easy for programmers who already understand the concepts and practices of C++ and Java languages. We won't waste your time or ours repeating things your tech team already knows. At this time, we do not offer on-site C# classes for fewer than three participants.
Accelebrate is changing the way people learn new technologies. We build custom lesson plans and bring them to your location in Atlanta. Your employees can learn new skills without having to leave the building. When you are ready to schedule your on-site C# classes, give us a call at (877) 849-1850.
C# is an object-oriented language that allows developers to create many different types of .NET Framework applications. C# can be used used to create Windows client applications, Web services, web applications, distributed components, and more.
Accelebrate's C# training classes teach the C# and Visual Studio skills your developers need to successfully develop and test Web applications, Web services, and Windows applications with C#.