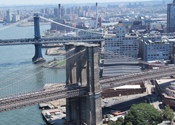 If your IT team is already familiar with C-style and Java programming languages, the syntax of C# will probably make perfect sense. New York C# training sessions at your location can ensure the smooth incorporation of C# into your team's quiver of program languages.
New York City is a bustling hub of activity and much of that activity is in the technology sector. If you run the IT department of a NYC tech outfit, you will want to keep your team current with the latest developments in COBOL, C++, Java and C#. Fortunately, that is precisely what we offer. Accelebrate provides customized course lessons in a variety of coding and programming languages. Learning with a live, in-person teacher is the preferred method for many programmers.
Time spent alone poring over a C# user manual can be boring and lonesome. When Accelebrate sends a C# expert to your location, your IT guys and gals can get up to speed with C# and other programming languages in a way that works. Accelebrate course instructors are ready to answer any questions your programming team may have. At this time, Accelebrate does not offer private on-site classes for classes with less than three participants.
C# is an object-oriented language that allows developers to create many different types of .NET Framework applications. C# can be used used to create Windows client applications, Web services, web applications, distributed components, and more.
Accelebrate's C# training classes teach the C# and Visual Studio skills your developers need to successfully develop and test Web applications, Web services, and Windows applications with C#.