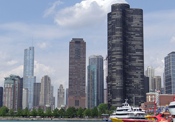 Accelebrate Chicago C# training classes are some of our most intense. When your group of three or more individuals attends a series of on-site C# classes, they learn all about about working with the Microsoft .NET framework. They will learn how to work with Ajax, LINQ, WCF and other services associated with the .NET framework. They will learn how to develop Windows forms with C#, as well.
C# is utilized to build interactive computer games and applications. An IT department who is well-versed in the ways of C# can make applications, utilities and compilers. If your department is not current with the latest C# programming developments, contact Accelebrate right away. Let's talk about your goals and how to best achieve them. We will design a class that matches the abilities of your programmers and coders. We won't bore them with things they already know. Instead, we will present them with new information and hands-on experience.
There are a wealth of technology-based outfits in the Windy City today. Ensure your company's place at the head of the pack with Chicago C# training taught the Accelebrate way.
C# is an object-oriented language that allows developers to create many different types of .NET Framework applications. C# can be used used to create Windows client applications, Web services, web applications, distributed components, and more.
Accelebrate's C# training classes teach the C# and Visual Studio skills your developers need to successfully develop and test Web applications, Web services, and Windows applications with C#.