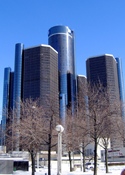 Accelebrate facilitates group learning in Detroit. We provide informative learning modules for this area's thriving IT and Internet communities. Programming languages can seem formidable to beginners, so our introductory courses can help your group overcome the most common hurdles. The practical lessons are designed by an experienced instructor who is sensitive to many different learning styles.
Learning C# in Detroit
Group training is an effective approach for learning C#. It is also more effective than independent study, so our modules present a compelling alternative for IT managers looking to improve their team's productivity. We can get your group comfortable using the most practical aspects of this programming language in a relatively short amount of time.
Accelebrate hires the most talented and knowledgeable instructors to teach our material. The training can be conducted right at your work location, so your team will become familiar with C# in a familiar environment. This is an effective way to increase retention, promote curiosity and speed up the learning process. If your organization has a specific project or goal underway, simply talk to the instructor before the class. The course content can be modified to suit your objectives, and we accommodate as many requests as possible.
C# is an object-oriented language that allows developers to create many different types of .NET Framework applications. C# can be used used to create Windows client applications, Web services, web applications, distributed components, and more.
Accelebrate's C# training classes teach the C# and Visual Studio skills your developers need to successfully develop and test Web applications, Web services, and Windows applications with C#.