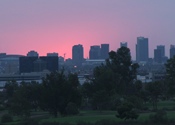 Phoenix is on the brink of becoming a major tech community. It's only an hour flight from Silicon Valley; it has access to up-and-coming talent from Arizona State University and the University of Arizona; and it has a much lower cost of living than the California Bay area. A growing number of businesses and start-ups are ready to turn the desert into another tech hub. Ongoing training can help you stay ahead of the curve.
C# training from Accelebrate keeps your employees current. Among its many uses, this popular programming language lets you easily create applications that function across operating systems. Explore the diversity of Visual C#; become well versed in ASP.NET with C#; or discover GUI development with C# and Windows Forms. From basic introductions to advanced levels, we've got it covered.
Accelebrate offers customized classes tailored to your specific business needs. We send highly skilled instructors to your location, saving you travel time and costs; we only request three or more employees per class. Such group learning allows collaboration on real-time business projects and problem resolutions. Accelebrate also offers comprehensive customer service that goes beyond scheduled training.
C# is an object-oriented language that allows developers to create many different types of .NET Framework applications. C# can be used used to create Windows client applications, Web services, web applications, distributed components, and more.
Accelebrate's C# training classes teach the C# and Visual Studio skills your developers need to successfully develop and test Web applications, Web services, and Windows applications with C#.