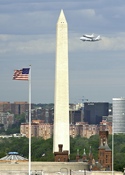 Programmers use C# to build interactive applications and computer games, utilities, compilers and other useful things. If your department is not up to date with the latest C# programming platforms, contact Accelebrate without delay. Let's discuss your project goals and the best ways to achieve them. We will put together a class program that matches the abilities of your IT team. We won't bore them with the stuff they already know. Instead, we will offer new information and give them a hands-on learning experience.
When we come to your Washington DC site to teach a group of three or more individuals C# programming, they learn how to work with the Microsoft .NET framework. We'll teach your employees how to work with Ajax, WCF, LINQ and other .NET framework services. If your people already understand basic Object-oriented programming, it won't take them long to get up to speed with C#.
Accelebrate believes in the continuing education of programmers and coders from coast to coast. These are exciting times in programming and we can help your company stay current with the latest developments. To schedule your Washington, DC C# training, please call (877) 849-1850.
C# is an object-oriented language that allows developers to create many different types of .NET Framework applications. C# can be used used to create Windows client applications, Web services, web applications, distributed components, and more.
Accelebrate's C# training classes teach the C# and Visual Studio skills your developers need to successfully develop and test Web applications, Web services, and Windows applications with C#.