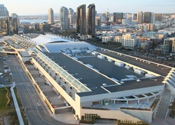 Think California tech communities and you think Silicon Valley, but San Diego has plenty to offer too. This highly active tech population maintains a full calendar of events every week, including specialized group gatherings to expand knowledge and gain input as well as interactive meetings with business leaders and start-ups. Tech businesses stay competitive by keeping up with the latest advances, and ongoing training is a valuable resource.
Accelebrate's C# training is one example. Developed in part to simplify portability of applications between operating systems, C# is a diverse language with numerous uses. Whether you're looking to learn the basics; to use C# in building XML applications; to learn ASP.NET with C#; or to learn about the various uses of Visual C#, our training always remains current.
The many benefits of Accelebrate training include curricula and training materials customized specifically to your business needs; on-site classes for three or more employees that save travel time and expense; a group learning environment where employees can collaborate and incorporate present business projects; highly trained staff with extensive field experience; and exceptional customer service that's available before, during and after scheduled training.
C# is an object-oriented language that allows developers to create many different types of .NET Framework applications. C# can be used used to create Windows client applications, Web services, web applications, distributed components, and more.
Accelebrate's C# training classes teach the C# and Visual Studio skills your developers need to successfully develop and test Web applications, Web services, and Windows applications with C#.