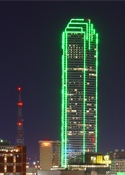 Dallas has always been an important business center. In the past, oil and agriculture made the area an essential stopping point for most business transactions in the region. Today, Dallas has a growing finance sector, which has kept Dallas at the forefront of the business world. In order to get ahead in a market like Dallas, businesses should consider group C# training.
C# is a programming language with broad appeal. Developed by Microsoft, C# was created to be flexible. It was approved by Ecma and is one of the central languages used for the Common Language Infrastructure. Although C# has a wide range of applications, especially within distributed environments and embedded systems, it does take some training to become proficient.
Fortunately, our group training options can get the job done. Group training has notable advantages over individual alternatives. With group training, the learning curve is standardized, creating an ease of communication within the team.
To provide the best results, all of our instructors have industry experience with the language. This gives them the ability to not only teach the basics of C# but to explain its applications in a real world context. All this makes our group C# training unparalleled.
C# is an object-oriented language that allows developers to create many different types of .NET Framework applications. C# can be used used to create Windows client applications, Web services, web applications, distributed components, and more.
Accelebrate's C# training classes teach the C# and Visual Studio skills your developers need to successfully develop and test Web applications, Web services, and Windows applications with C#.