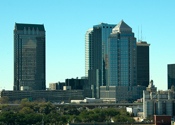 C# is a programming language that has taken the technology world by storm. It's innovative, and you can use it to quickly construct a wide range of apps. Like every other C-style language, C# is also strikingly stylish and graceful.
If you and/or your staff members would like a C# refresher course or an introduction to this language, feel free to contact Accelebrate at any time. Let us know what you intend to use C# for and what you'd like to get from our training course. We'll then modify our lesson plans in order to deliver the exact instruction that you're seeking. All you need to do is guarantee that at least three people will take this class, and we'll go to your Tampa area headquarters to teach the material.
All during the class, your attendees can ask our expert trainers anything that they want and express any concerns that they have. After all, our sole mission is to provide you with detailed information that's easy to grasp and that will help your company to grow over the long haul. Indeed, that dedication is the main reason why so many Tampa businesspeople have placed their trust in us over the years.
C# is an object-oriented language that allows developers to create many different types of .NET Framework applications. C# can be used used to create Windows client applications, Web services, web applications, distributed components, and more.
Accelebrate's C# training classes teach the C# and Visual Studio skills your developers need to successfully develop and test Web applications, Web services, and Windows applications with C#.