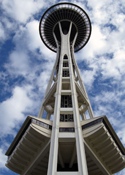 Is your Seattle programming team still using C and C++? If so, it may be time to hire Accelebrate to come to your site to teach your team all about the C# programming language. C# is used to make everything from websites to interactive games. Aside from Java, there is no language more widely used today than C# and it would certainly behoove your IT team to learn how to use it.
Many programmers have told us that they prefer C# over PHP or JSP for writing web pages. We listened to those programmers and came up with an excellent class curriculum that we can bring to your Seattle business site. Accelebrate teachers can turn your group of three or more into fully accomplished C# programmers.
Seattle is a tech-savvy city where hundreds of coders have taken our on-site technology training classes. We firmly believe that the better educated a programming team, the better product they will create. We do not maintain a physical campus and we keep our prices very affordable. If you are an IT department leader, give us a call at (877) 849-1850 and tell us about your team. We will give you a no-obligation cost estimate and if you like, we will schedule your first Seattle C# training class.
C# is an object-oriented language that allows developers to create many different types of .NET Framework applications. C# can be used used to create Windows client applications, Web services, web applications, distributed components, and more.
Accelebrate's C# training classes teach the C# and Visual Studio skills your developers need to successfully develop and test Web applications, Web services, and Windows applications with C#.