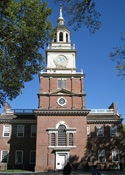 If your tech team isn't fully versed in the object-oriented and component-based programming language known as C#, what are you waiting for? C# is a simple, generic programming language that's used to build a wide range of applications and programs. An IT team that absolutely understands the concepts and practices of C# can write and deploy software applications that your customers want to see.
Accelebrate offers Philadelphia C# training sessions in a familiar environment. Your employees probably don't want to travel to a strange location to take an all-purpose class. Accelebrate private classes provide a far more personalized learning experience to groups of at least three participants. Learning from an expert with real-world programming experience makes sense in so many ways. Our teachers truly understand the technology they teach and are always prepared to answer any questions that might be posed by your IT staff during their training session. To know more about the good things that Philadelphia C# training can do for your company, give us a ring at 877.849.1850. We look forward to telling you about the myriad of benefits offered by Accelebrate private training.
C# is an object-oriented language that allows developers to create many different types of .NET Framework applications. C# can be used used to create Windows client applications, Web services, web applications, distributed components, and more.
Accelebrate's C# training classes teach the C# and Visual Studio skills your developers need to successfully develop and test Web applications, Web services, and Windows applications with C#.