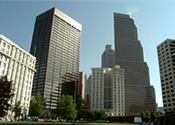 As a quickly growing hub for high-tech industry, Atlanta is the ideal location for getting the iOS training your IT staff needs. With more than 13,000 companies in the telecom, digital media and mobile tech disciplines, Atlanta offers a wealth of opportunities for tech companies to get ahead. Accelebrate gives your firm a competitive edge with on-site, small group training in iOS development and applications for Apple mobile devices. We tailor each training program according to your team projects and corporate focus.
Apple enjoys a pervasive, worldwide distribution of mobile products, with sales topping $10 billion in 2013. Your IT team's understanding of the technology, how to use it and how to develop new apps benefits your business bottom line too. Our instructors bring a customized training program to your company location for groups of three or more. Accelebrate also offers online training for geographically distributed students.
Accelebrate's professional instructors provide responsive, customer service oriented training prior to, during and after class. In-person training gives your team the chance to ask questions, brainstorm ideas and benefit from one-on-one interaction with one of Accelebrate's iOS experts. Just tell us your team and organizational goals, and we will design a specific iOS training program just for your corporate or IT team.
Derived from core macOS technologies, including a UNIX-based foundation, iOS is the mobile operating system that powers Apple's iPhone, iPad, and iPod Touch devices. Apple's iOS SDK and Xcode integrated development environment (IDE) provide developers with the tools they need to create native apps that will run on any iOS-powered platform.
Apple's Swift programming language is a functional programming language used to write applications for iOS, macOS, watchOS, and tvOS for Apple's Cocoa and Cocoa Touch frameworks. Accelebrate's collection of iOS and Swift training courses provide your team with the knowledge and hands-on skills necessary to create interactive, compelling, high-performance, native iOS apps.