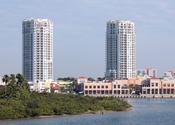 Tampa iOS development training can happen one of three ways. You can send your IT department home with manuals and hope that they learn about Apple programming on their own. You could pay travel expenses for your programmers to travel some distance to a public iOS training seminar, or you could call Accelebrate. If you are an IT manager or a manager in charge of corporate training, give us a call and tell us a little something about your project goals. Tell us about the coding experience of your team, and we will devise a course plan that works for you.
We don't believe in cookie-cutter courses that are presented the same way every time. We find that many programmers glaze over when asked to re-learn what they already know. If your programmers have an Apple Mac computer running OS X 10.4 or later, and an Xcode release of no later than 5.0, we'll bring the rest. We will send a personable course instructor to your place of business to teach a class of three or more participants. Our Tampa iOS development classes are not for beginner coders.
Derived from core macOS technologies, including a UNIX-based foundation, iOS is the mobile operating system that powers Apple's iPhone, iPad, and iPod Touch devices. Apple's iOS SDK and Xcode integrated development environment (IDE) provide developers with the tools they need to create native apps that will run on any iOS-powered platform.
Apple's Swift programming language is a functional programming language used to write applications for iOS, macOS, watchOS, and tvOS for Apple's Cocoa and Cocoa Touch frameworks. Accelebrate's collection of iOS and Swift training courses provide your team with the knowledge and hands-on skills necessary to create interactive, compelling, high-performance, native iOS apps.