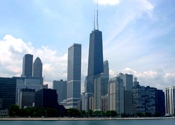 For exceptional Chicago iOS development training that's tailored to suit the needs of your team, look no further than Accelebrate. We differentiate ourselves from the competition in a number of ways, but we're especially proud of our ability to customize our course content and other features to address clients' unique needs.
Instruction from Talented Experts
Our instructors are true experts when it comes to iOS development. Each has exceptional amounts of experience in the field.
A Consultative Approach to Chicago iOS Development Training
With Accelebrate, you don't just choose a generic course. Instead, you explain the unique needs of your team to us, and we develop one especially for you. After all, your team may need to learn iOS app development from the ground up, or they may already know the basics. Our goal is to provide the right amount of training - no more, no less.
Online and In-Person Training
When you sign up with Accelebrate for iOS development training in Chicago, we can send our instructors to you. If your team is spread out at different sites, we also offer online training. Just tell us what you need.
Sign Up Now
The first step to taking advantage of Accelebrate's superior iOS development training is explaining what you need, so contact us now to get started!
Derived from core macOS technologies, including a UNIX-based foundation, iOS is the mobile operating system that powers Apple's iPhone, iPad, and iPod Touch devices. Apple's iOS SDK and Xcode integrated development environment (IDE) provide developers with the tools they need to create native apps that will run on any iOS-powered platform.
Apple's Swift programming language is a functional programming language used to write applications for iOS, macOS, watchOS, and tvOS for Apple's Cocoa and Cocoa Touch frameworks. Accelebrate's collection of iOS and Swift training courses provide your team with the knowledge and hands-on skills necessary to create interactive, compelling, high-performance, native iOS apps.