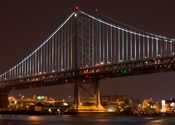 Tap into Philadelphia's vibrant tech industry by getting the personalized iOS Development training your staff needs from Accelebrate. A proprietary mobile operating system for Apple iPad and iPhone devices, iOS is based on the precedent-setting OS X Apple computer operating system.
Since 2007, iOS technology has powered the Apple mobile product family, including iPhone, iPod Touch and iPad Mini. With over a million applications by October 2013 and counting, iOS has solidified its industry leadership through more than 60 billion downloads via more than 400 million Apple devices. This constitutes a huge demand for iOS7 training and app development, and Accelebrate meets this demand with customized, in-house training sessions at your workplace.
Accelebrate in Philadelphia brings your employees up to speed with effective, easy to understand training that helps your company compete successfully in the rapidly expanding mobile marketplace. We make it simple with on-site training in Philadelphia for three or more participants. Each Accelebrate training session provides personalized, one-on-one instruction with course materials designed to meet your company's specific organizational goals.
Stay current with developments in iOS technology and apps by scheduling Philadelphia group training for your team members. They will learn essential iOS skills and gain valuable insight from in-person instruction by one of Accelebrate's professional trainers.
Derived from core macOS technologies, including a UNIX-based foundation, iOS is the mobile operating system that powers Apple's iPhone, iPad, and iPod Touch devices. Apple's iOS SDK and Xcode integrated development environment (IDE) provide developers with the tools they need to create native apps that will run on any iOS-powered platform.
Apple's Swift programming language is a functional programming language used to write applications for iOS, macOS, watchOS, and tvOS for Apple's Cocoa and Cocoa Touch frameworks. Accelebrate's collection of iOS and Swift training courses provide your team with the knowledge and hands-on skills necessary to create interactive, compelling, high-performance, native iOS apps.