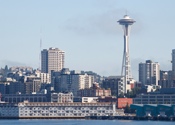 Seattle is by far one of the most tech-savvy towns in America. If you work as a programmer here, you could earn a nice living. Of course, if you intend to keep up with the tech competition, you'll want to stay fluent in the latest programming languages. Accelebrate can help you do exactly that.
At Accelebrate, we are dedicated to your continuing technical education. If there are three, four, or more developers at your location, we will send a teacher to you. Corporate training managers and IT team leaders know and trust the Accelebrate name. Our at-your-location Seattle iOS development training courses will teach you all you need to know about developing and implementing applications for Apple devices like iPad and iPhone. Those are big names in consumer computers, and a complete understanding of how to write apps for them is right for any programmer or coder in Seattle.
If your development team is already current with an object-based programming language like C++ or Java, they will be ready to learn how to use iOS development tools. To know more about Accelebrate technology classes taught at your location, give us a ring at 877.849.1850
Derived from core macOS technologies, including a UNIX-based foundation, iOS is the mobile operating system that powers Apple's iPhone, iPad, and iPod Touch devices. Apple's iOS SDK and Xcode integrated development environment (IDE) provide developers with the tools they need to create native apps that will run on any iOS-powered platform.
Apple's Swift programming language is a functional programming language used to write applications for iOS, macOS, watchOS, and tvOS for Apple's Cocoa and Cocoa Touch frameworks. Accelebrate's collection of iOS and Swift training courses provide your team with the knowledge and hands-on skills necessary to create interactive, compelling, high-performance, native iOS apps.