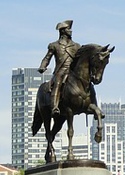 Like many corporate training managers and IT managers, you may be looking for iOS development training in Boston. If so, Accelebrate is ready to assist you. We've emerged as the leader in Boston iOS development training because we customize our innovative courses to suit your goals, projects and experience. With us, your team receives the optimal amount of training.
The Accelebrate Difference
Traditional iOS app development training involves choosing a course from a list and hoping it matches your needs as closely as possible. At Accelebrate, we've turned that concept on its head. Our talented team will consult with you to learn about your goals, needs and abilities. We'll then propose a custom outline that addresses each and every point to your complete satisfaction.
We'll Come to You
If you're dreading the idea of coordinating everyone to meet at a training center, don't worry. Accelebrate's expert instructors will come to you. Is your team spread out across several locations? We'll deliver the training online.
Rapidly Responsive Customer Service
We want you to be thrilled every step of the way, so our customer service is ready to assist you before, during and after class. Discover why Accelebrate is the leader in Boston iOS development training by contacting us today!
Derived from core macOS technologies, including a UNIX-based foundation, iOS is the mobile operating system that powers Apple's iPhone, iPad, and iPod Touch devices. Apple's iOS SDK and Xcode integrated development environment (IDE) provide developers with the tools they need to create native apps that will run on any iOS-powered platform.
Apple's Swift programming language is a functional programming language used to write applications for iOS, macOS, watchOS, and tvOS for Apple's Cocoa and Cocoa Touch frameworks. Accelebrate's collection of iOS and Swift training courses provide your team with the knowledge and hands-on skills necessary to create interactive, compelling, high-performance, native iOS apps.