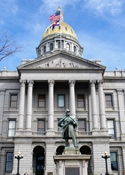 Struggling to find high-quality iOS development training in Denver? Your team deserves the best, and Accelebrate delivers. We're the iOS app development training solution of choice for IT managers, corporate training managers and other busy professionals because we tailor our courses to suit our clients' needs. We excel in many other exciting ways too.
Responsive Customer Service
Before, during and after each class, you can turn to our customer service team for prompt, effective assistance. With Accelebrate, you're never left in the dark. The long-term educational needs of your team are more important than our short-term sales goals.
Consultative Denver iOS Development Training
Accelebrate stands apart by offering a consultative approach to iOS development training, which means that you're in the driver's seat. Our courses are customized to suit the unique needs of your team and the goals of your organization.
Online and In Person
Our expert instructors have proven, strong field experience. They'll come to your team if it's in a single location. If it's scattered geographically, Accelebrate offers online training too.
Enroll Now!
Regardless of the kinds of goals you have for your iOS development training, Accelebrate can help you reach them. Contact us now and tell us what you need. We look forward to working with you!
Derived from core macOS technologies, including a UNIX-based foundation, iOS is the mobile operating system that powers Apple's iPhone, iPad, and iPod Touch devices. Apple's iOS SDK and Xcode integrated development environment (IDE) provide developers with the tools they need to create native apps that will run on any iOS-powered platform.
Apple's Swift programming language is a functional programming language used to write applications for iOS, macOS, watchOS, and tvOS for Apple's Cocoa and Cocoa Touch frameworks. Accelebrate's collection of iOS and Swift training courses provide your team with the knowledge and hands-on skills necessary to create interactive, compelling, high-performance, native iOS apps.