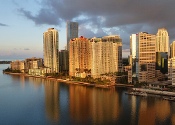 If your IT team currently uses Foundation or Core Foundation framework, moving to other versions of iOS may be relatively easy, provided they receive the proper training. Historically, Apple has released at least one new version of iOS every year since its initial inception in 2007. This trend is expected to continue.
If you're a team manager in charge of technology training, Accelebrate mobile Miami iOS development training is something to consider. Avoid the need to send your employees off-site to attend public iOS training when you select Accelebrate to provide all the technology training you require. When we come to your location with a great teacher and customized course curriculum, you save on company travel expenses and employee downtime.
Computers changed the world. Today, Accelebrate is changing the way computer programmers, coders, game inventors and IT workers learn. We invite you to call 877.849.1850 and inquire about our at-your-location technology training sessions. Tell us about your project goals and IT team experience. We'll build and deliver a custom iOS training class that's exactly right for you and your information technology team.
Derived from core macOS technologies, including a UNIX-based foundation, iOS is the mobile operating system that powers Apple's iPhone, iPad, and iPod Touch devices. Apple's iOS SDK and Xcode integrated development environment (IDE) provides developers with the tools they need to create native apps that will run on any iOS-powered platform.
Apple's Swift programming language is a functional programming language used to write applications for iOS, macOS, watchOS, and tvOS for Apple's Cocoa and Cocoa Touch frameworks. Accelebrate's collection of iOS and Swift training courses provide you and your team with the knowledge and hands-on skills necessary to create interactive, compelling, high-performance, native iOS apps