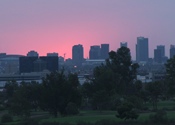 Accelebrate offers first-rate Phoenix iOS development training that's tailored to suit the unique needs of each client. IT managers, corporate training managers and other professionals prefer us because we do far more than offer generic, cookie-cutter training courses. If you are looking for superior iOS development training in Phoenix, we can help.
A Consultative Approach that Puts You in the Driver's Seat
Where is your team at when it comes to iOS app development? Whether it's made up of complete beginners or more advanced users, Accelebrate will customize our course content to ensure that the perfect amount of training is delivered. Our experts can propose a custom outline that addresses the students' needs as well as the needs and goals of your organization.
Ongoing Support for Superior Results
When you hire Accelebrate for Phoenix iOS development training, our rapidly responsive customer service team is available to you before, during and after class. Our talented instructors can come to you or deliver lessons online if your team isn't all in one place. With us, your needs trump everything else.
Sign Up Today!
We're confident that you'll be beyond thrilled with your experience with Accelebrate. Contact us now and tell us what you need.
Derived from core macOS technologies, including a UNIX-based foundation, iOS is the mobile operating system that powers Apple's iPhone, iPad, and iPod Touch devices. Apple's iOS SDK and Xcode integrated development environment (IDE) provide developers with the tools they need to create native apps that will run on any iOS-powered platform.
Apple's Swift programming language is a functional programming language used to write applications for iOS, macOS, watchOS, and tvOS for Apple's Cocoa and Cocoa Touch frameworks. Accelebrate's collection of iOS and Swift training courses provide your team with the knowledge and hands-on skills necessary to create interactive, compelling, high-performance, native iOS apps.