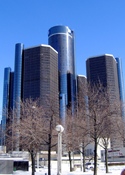 For iOS training in Detroit, the best option is to educate employees in a group setting. If your company is looking for iOS development training for three or more workers, our group training provides an easy and efficient way to give your team a thorough education. There are several good reasons to use group training. First, your employees will bond and learn to work together using the information they learn. They will be taught the same, so they will all be on the same page.
Second, your employees will be trained based on their current knowledge. We offer personalized plans that take into account any previous training or a lack of training. Whether your workers are just starting to learn iOS development or have experience, we can reinforce and further their knowledge. Third, there is no need to budget extra money for travel expenses. Our experienced iOS development training professionals will travel to your Detroit location to train your workers. Contact us to learn how easy it is to set up a personalized iOS development training plan.
Derived from core macOS technologies, including a UNIX-based foundation, iOS is the mobile operating system that powers Apple's iPhone, iPad, and iPod Touch devices. Apple's iOS SDK and Xcode integrated development environment (IDE) provide developers with the tools they need to create native apps that will run on any iOS-powered platform.
Apple's Swift programming language is a functional programming language used to write applications for iOS, macOS, watchOS, and tvOS for Apple's Cocoa and Cocoa Touch frameworks. Accelebrate's collection of iOS and Swift training courses provide your team with the knowledge and hands-on skills necessary to create interactive, compelling, high-performance, native iOS apps.