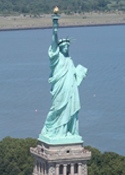 If you're a corporate training manager or IT manager looking for in-depth iOS development training in New York, Accelebrate is the optimal choice. We stand apart from the competition in a number of compelling ways. From our customizable, consultative approach to our highly responsive customer service, we do what it takes to give your team the training it needs to develop iOS apps entirely from scratch.
Customizable, Consultative iOS Development Training in New York
At Accelebrate, we don't believe in cookie-cutter training courses. Instead, we adapt them to suit the unique needs of each client. After listening to your needs, as based on your goals, experience and projects, we'll present you with a custom outline that addresses every point. The way we see it, your long-term educational needs are the number-one priority.
New York iOS Development Training Here or Online
If your whole team is in one place, Accelebrate's expert instructors can come out to perform the training at your site. If they're geographically distributed, we're happy to deliver the training online. Combine that flexibility with our rapidly responsive customer service, and it's easy to see why Accelebrate is the superior choice for iOS development training in New York. Contact us now to get started!
Derived from core macOS technologies, including a UNIX-based foundation, iOS is the mobile operating system that powers Apple's iPhone, iPad, and iPod Touch devices. Apple's iOS SDK and Xcode integrated development environment (IDE) provides developers with the tools they need to create native apps that will run on any iOS-powered platform.
Apple's Swift programming language is a functional programming language used to write applications for iOS, macOS, watchOS, and tvOS for Apple's Cocoa and Cocoa Touch frameworks. Accelebrate's collection of iOS and Swift training courses provide you and your team with the knowledge and hands-on skills necessary to create interactive, compelling, high-performance, native iOS apps