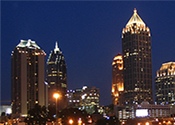 Angular is an essential tool for development teams using JavaScript. The Accelebrate training series can get your tech team to become proficient in Angular in a short amount of time. Our instructors can come right to your location, and the team will learn right in the workspace. This enables members to retain a high percentage of the material. Your team can quickly acquire skills for using expressions, directives, filters, scopes and more.
Additionally, the learning environment is created right at the work site for maximum applicability. The trainers lecture for approximately 20 minutes before the team moves onto the hands-on portion of the training. This is the best method for learning Angular because team members can quickly identify their weaknesses and apply to the instructor for immediate assistance.
Team Learning in Atlanta
Team learning is extremely effective when learning technical skills. Angular can facilitate the goals of your company by enabling team members to obtain new skills and apply them right away. The on-site training system is more effective than online training. Our instructors are experienced, and they can help each team member to overcome common obstacles. Contact Accelebrate today for more information.
Angular is an open-source JavaScript framework that is maintained by Google and allows developers to build dynamic, responsive single-page web applications easily. Developers can use Agular's ability to dynamically update portions of the current page rather than generate a new page in response to every request.
Learn how to build Angular applications, master coding best practices, use Typescript and ES6, perform unit testing, and more. Accelebrate's Angular training courses teach all levels of Angular and versions for your team of 3 or more attendees. Any course can be customized to fit your team's needs, goals, and level of expertise. Our instructors are seasoned trainers and Angular experts who provide engaging, hands-on learning so your team can immediately put their new skills to work.