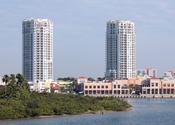 Accelebrate offers premium training in Angular to groups in locations around Tampa. Learn with some of the industry's best instructors, who integrate different learning styles within the course. Group members will gain practical experience at the same time, so they will be ready to deploy their new skills right away. The collaboration process helps each learner to get the maximum benefit from each lesson.
Training in Angular provides a variety of benefits, but it is not always convenient to travel to attend classes. Our training programs take this into consideration. We provide an experienced instructor, so your team can enjoy learning from the best training techniques in the industry. Everyone benefits when the teaching methods used are appropriate to the learning styles within the group.
The technology community in Tampa has a long history of collaboration and teamwork. Accelebrate uses methodologies that are consistent with the community's values. This increases the enjoyment of the learning process, and it allows each member to realize their full potential. The Accelebrate instructors are also very responsive to specific requests. If you have an ongoing company project, and you need your team to be up to speed in a certain area of Angular, we can accommodate your requests.
Angular is an open-source JavaScript framework that is maintained by Google and allows developers to build dynamic, responsive single-page web applications easily. Developers can use Agular's ability to dynamically update portions of the current page rather than generate a new page in response to every request.
Learn how to build Angular applications, master coding best practices, use Typescript and ES6, perform unit testing, and more. Accelebrate's Angular training courses teach all levels of Angular and versions for your team of 3 or more attendees. Any course can be customized to fit your team's needs, goals, and level of expertise. Our instructors are seasoned trainers and Angular experts who provide engaging, hands-on learning so your team can immediately put their new skills to work.