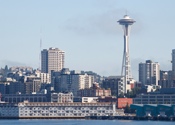 Accelebrate offers accelerated learning modules for Angular in Seattle. With as few as three people, your organization can arrange to get up to speed in the latest developments in this area. Our seasoned professional trainers incorporate the best standards for teaching, so your group will be ready to apply their new skills right away.
With the on-site learning option, your group can train with our expert instructor within their normal work environment. Studies have demonstrated the positive effects of learning in the same location where you apply the new skills.
Learn Angular with Accelebrate
Accelebrate offers a variety of courses at different skill levels, you can arrange to refresh your team's skill set on an ongoing basis. Our introductory course familiarizes team members with general concepts, so this is an appropriate beginner's course. For advanced employees, we have complete training packages with advanced material.
Accelebrate has a long list of satisfied corporate clients, and we also serve educational institutions and small businesses. Because we have such a diverse clientele, our instructors are responsive to specific needs and requests. If your team requires a lot of hands-on experience, for example, the instructor can quickly customize the session to accommodate this request.
Angular allows developers to easily build dynamic, responsive single-page web applications that dynamically rewrite portions of the current page rather than having to generate a new page in response to every request.
Accelebrate's Angular training courses teach all levels of Angular and versions for your team of 3 or more attendees. Any course can be customized to fit your team's needs, goals, and level of expertise. Our instructors are seasoned trainers and Angular experts who provide engaging, hands-on learning to maximize retention and allow your team to use their skills immediately in the workplace.