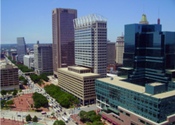 Accelebrate training in Angular can assist groups to rapidly gain new skills. Our professional trainers utilize the best practices to help your team become proficient in Angular. Small groups create an ideal learning environment, and our instructors utilize every minute of the course to clarify the most challenging concepts. The format is also designed to increase retention of information by providing an ample amount of hands-on experience.
Learning Angular in Baltimore
Obtaining training in Angular can be easy, and we can even come right to your work site to conduct the courses. This improves the learning process by allowing the group to learn and practice in the same environment where they will be applying the new tools. The learning environment is also designed with the specific needs of the group in mind. If you have a specific goal or project, your team can quickly acquire the skills most relevant to this stated objective.
Accelebrate seeks to maintain long-term relationships with our clients in order to meet various ongoing objectives as they develop. Our previous clients include prominent corporations, educational facilities and insurance companies. This successful track record demonstrates our commitment to customizing the lessons to meet each client's needs.
Angular is an open-source JavaScript framework that is maintained by Google and allows developers to build dynamic, responsive single-page web applications easily. Developers can use Agular's ability to dynamically update portions of the current page rather than generate a new page in response to every request.
Learn how to build Angular applications, master coding best practices, use Typescript and ES6, perform unit testing, and more. Accelebrate's Angular training courses teach all levels of Angular and versions for your team of 3 or more attendees. Any course can be customized to fit your team's needs, goals, and level of expertise. Our instructors are seasoned trainers and Angular experts who provide engaging, hands-on learning so your team can immediately put their new skills to work.