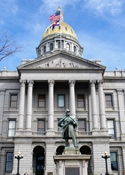 The Angular technology is an industry standard for developers who are interested in learning how to create single-page apps using the MVC design structure. The Accelebrate training course is designed to enable participants to refine their new skills through a series of lectures and hands-on tasks.
Angular is an advanced course, so familiarity with JavaScript is strongly recommended for all participants. If necessary, we can arrange for your group to receive a JavaScript course before advancing into Angular. Every situation can be customized to meet your needs, so let us know your organization's objectives in advance.
Team Training in Angular
The technology and Internet community in Denver can tap into their existing skills and expand them through team training with Accelebrate. Our experience strongly suggests that team training is an effective and cost-efficient method for advancing the capabilities of a group in Angular.
Although we also offer online courses for companies who are located in disparate regions, it is important to get training from our experts in person whenever possible. These experienced professionals can quickly assess the capacity of each individual on your team. Contact Accelebrate to schedule your training session today.
Angular allows developers to easily build dynamic, responsive single-page web applications that dynamically rewrite portions of the current page rather than having to generate a new page in response to every request.
Accelebrate's Angular training courses teach all levels of Angular and versions for your team of 3 or more attendees. Any course can be customized to fit your team's needs, goals, and level of expertise. Our instructors are seasoned trainers and Angular experts who provide engaging, hands-on learning to maximize retention and allow your team to use their skills immediately in the workplace.