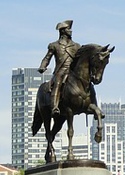 Accelebrate offers customized training sessions in Angular for teams in Boston. This training can be accomplished with as few as three participants, and the benefits are long lasting. Our experienced trainers are able to customize the content of the sessions in order to enable you to exercise control over the group's learning objectives.
Angular Training in Boston
The Angular technology is useful for a variety of in-house projects utilizing JavaScript. The technology community in Boston is known for staying on the cutting edge of all advances in the industry, and training in Angular can help your team achieve their goals. In addition, team-training solution is ideal for group members who are going to be working together on a specific project.
Team Training in Boston
Team training can amplify the effects of the new skills learned on-site. This is a good idea because it enables your group to apply their new abilities on a specific in-house project right away. Our group instruction is designed to enable your team to get the answers they need from our high-quality instructors who are experienced and knowledgeable in their respective fields. No online course can come close to the quality of in-person training from Accelebrate. Contact us today.
Angular is an open-source JavaScript framework that is maintained by Google and allows developers to build dynamic, responsive single-page web applications easily. Developers can use Agular's ability to dynamically update portions of the current page rather than generate a new page in response to every request.
Learn how to build Angular applications, master coding best practices, use Typescript and ES6, perform unit testing, and more. Accelebrate's Angular training courses teach all levels of Angular and versions for your team of 3 or more attendees. Any course can be customized to fit your team's needs, goals, and level of expertise. Our instructors are seasoned trainers and Angular experts who provide engaging, hands-on learning so your team can immediately put their new skills to work.