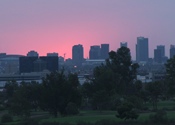 Angular training in Phoenix can bring your team to the next level of proficiency. This is an efficient method for designing and executing any in-house project. By setting up an Accelebrate training session at your office location, your team can quickly get up to speed on the latest techniques used in Angular.
Angular in Phoenix
Angular has quickly become an industry standard for single-page applications using Model-View-Controller, or MVC. Our certified and experienced professionals can customize their presentation to your group in order to conform to the goals of your organization.
If your team requires a refresher course in JavaScript before advancing into Angular, do not hesitate to set up a preliminary course for this purpose. These two courses are complementary, and your technology team will benefit from the large portion of the course dedicated to practicing the new skills in a hands-on learning environment.
Learning Angular
Team learning can enhance group cohesion and create a sense of camaraderie. Your objectives are always at the center of each session. The short lectures are around 20 minutes in length, which does not tax the attention of your team members. Participants will gain proficiency in Angular forms, expressions, filters, scopes, Ajax and more. Contact us today.
Angular is an open-source JavaScript framework that is maintained by Google and allows developers to build dynamic, responsive single-page web applications easily. Developers can use Agular's ability to dynamically update portions of the current page rather than generate a new page in response to every request.
Learn how to build Angular applications, master coding best practices, use Typescript and ES6, perform unit testing, and more. Accelebrate's Angular training courses teach all levels of Angular and versions for your team of 3 or more attendees. Any course can be customized to fit your team's needs, goals, and level of expertise. Our instructors are seasoned trainers and Angular experts who provide engaging, hands-on learning so your team can immediately put their new skills to work.