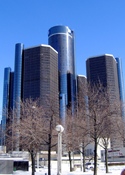 Group training is effective at increasing group productivity and performance. Accelebrate provides quality team training with customized content for each session. Your group will learn the precise skills you need them to understand in time for your next in-house assignment. This is a cost-effective way to get your team up to speed on the latest developments in Angular.
Expert Instructors, Accelerated Learning Experience
Our methods are well-researched, and the Accelebrate instructors understand how to motivate and inspire groups to bring out their very best. The hands-on learning process increases retention, and the classes can be offered right at your location. This combination of convenience and affordability improves outcomes for small businesses as well as large organizations.
Angular Training, Detroit
Accelebrate has experience providing Angular training to a variety of institutions and corporate clients in Detroit. Our expert instructors can adjust the details of the class to meet any needs. Students will be ready to apply their new knowledge right away. Accelebrate strives to reach as many businesses as possible, so our team training is available to businesses with offices in diverse geographical areas. Our consultation process addresses key areas of concern. This includes any specific goals, previous experience, location, key objectives and learning styles.
Angular allows developers to easily build dynamic, responsive single-page web applications that dynamically rewrite portions of the current page rather than having to generate a new page in response to every request.
Accelebrate's Angular training courses teach all levels of Angular and versions for your team of 3 or more attendees. Any course can be customized to fit your team's needs, goals, and level of expertise. Our instructors are seasoned trainers and Angular experts who provide engaging, hands-on learning to maximize retention and allow your team to use their skills immediately in the workplace.