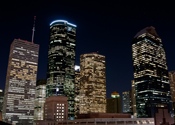 When it comes to tech, Houston is sometimes overshadowed by Austin, but it is a major tech hub in its own right! During the past few years, Houston has been hard at work building what is now a thriving startup community, especially around medical technology (the city has the world's largest collection of research hospitals).
The city is so serious about tech that in July 2019, Amazon celebrated the launch of a technology hub in the heart of the Bayou City. Just a few months before the opening, Mayor Sylvester Turner established a Smart City Advisory Council in an effort to drive Houston's tech sector forward. Houston is the perfect place for students to develop their careers and has something for everyone.
At Accelebrate, we understand that not all aspiring web developers excel within a "one-size-fits-all" model, therefore, any class can be tailored to meet the specific needs of your organization. Through a structured blend of lecture and lab exercises, we provide all the resources necessary to get your team up to speed. Accelebrate's Angular classes embrace the value of hands-on, instructor-led training, allowing participants to dive head-first into the learning process.