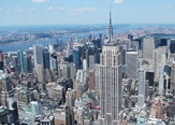 The technology community in New York thrives on continuing education, so Accelebrate designed a specific Angular training series to meet the needs of this diverse community. The Angular training contains a short lecture session, but a significant portion of the time is spent with participants learning the material by doing it.
Accelebrate offers every client a unique opportunity to learn Angular without traveling. This training is offered with or without a JavaScript primer course. It is designed to get your team up to speed on a variety of topics.
These topics include the following:
Effective use of controller layers for applications using Angular
Competence in using directives, expressions and filters for Angular
Testing and form building in Angular
Training Methods
There is no substitute for our professional in-person sessions with seasoned experts in their respective fields. The personalized training allows you to customize the course content in advance, and this ensures that your team will return to the office with a complete set of skills for the associated project. In addition, training can be completed at your facility, which improves the outcome for team members who will be able to apply their new skills right away.
Angular allows developers to easily build dynamic, responsive single-page web applications that dynamically rewrite portions of the current page rather than having to generate a new page in response to every request.
Accelebrate's Angular training courses teach all levels of Angular and versions for your team of 3 or more attendees. Any course can be customized to fit your team's needs, goals, and level of expertise. Our instructors are seasoned trainers and Angular experts who provide engaging, hands-on learning to maximize retention and allow your team to use their skills immediately in the workplace.